Vaginal Rejuvenation-Treatments, Procedures and Recovery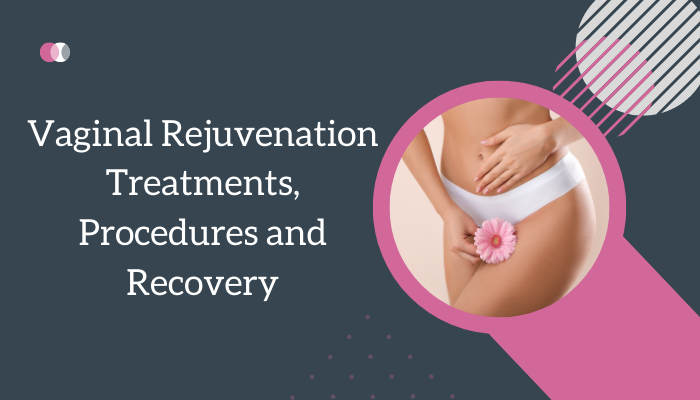 Numerous services and products are marketed to women in an effort to help them maintain their youth as long as possible. Vaginal rejuvenation claims to tighten the vagina and remove dryness and incontinence, among other things. A woman's vagina might change as she ages and gives birth. And some females wish to undo these alterations.
For females who want to reverse their vaginal condition, vaginal rejuvenation procedures are surely the way to go!
What is Vaginal Rejuvenation?
Vaginal Rejuvenation is an umbrella term that encompasses a variety of vaginal remedial surgeries. Your vagina and surrounding tissues may lose strength and suppleness due to childbearing, aging, and heredity. This causes a number of problems, including incontinence (leaking pee), dry vagina, sagging skin, and diminished sexual pleasure.
What are the various types of surgical vaginal rejuvenation treatment methods?
The majority of surgical vaginal rejuvenation procedures include anesthesia or sedation. These operations are carried out by our gynecologic surgeon. Typical surgical techniques for vaginal rejuvenation include:
Labiaplasty: The reshaping of your labia or the vaginal "lips."
Vaginoplasty: After childbirth, your vagina may widen and lose its shape. Vaginoplasty can tighten and repair the vaginal canal restoring its shape.
Clitoral Hood Reduction: Removing excess tissue reduces the clitoris' hood.
Vulvoplasty: Reshapes the vulvar region through vulvoplasty (external genitalia).
Perineoplasty: Strengthens the perineum through a perineoplasty (space between your vaginal and anus).
Some non-surgical vaginal rejuvenation procedures
O-Shot: An O-shot is intended to boost sexual sensitivity by injecting plasma-rich platelets to stimulate blood flow to the clitoris and vaginal wall tissues.
G-Shot: A G-Shot enhances sexual pleasure by injecting a hyaluronic acid-based solution. It increases vaginal sensitivity in the Grafenberg Spot—also known as the "G-Spot."
Laser Vaginal Rejuvenation: Vaginal rejuvenation using laser or radiofrequency energy is a non-invasive therapy created to improve the vagina's look while enhancing hydration, bladder control, and other crucial inner and outside genitalia functions after aging.
Vaginal Thread Lifting: Vaginal thread lifting is a procedure used to repair the cosmetic and functional defects of the vagina. The small clogs on the tread help in providing a lifting effect to the perineum; thereby reshaping and tightening the vagina effectively.
Vaginal Thread Tightening: Vaginal thread lifting procedure aims at tightening the vagina. This is a non-invasive method that uses absorbable threads to tighten the vagina. Thread tightening has various benefits like:
Repairs pelvic floor

Shorter recovery period

No bleeding
What is the procedure for vaginal rejuvenation surgery?
Depending on the operation, yes. You'll first have a consultation with a surgeon to go over your symptoms and your surgical goals. Use this time to learn about the procedure's dangers and advantages and to ask any questions you may have.
Depending on the treatment, the amount of work required, and the surgeon's technique, vaginal rejuvenation surgeries typically take one to two hours to complete. Most of the time, surgical vaginal rejuvenation is performed in an outpatient setting while under general anesthetic. Incisions (cuts) are made by the surgeon on your vulva or in your vagina, as well as the surrounding muscles and tissues, while you are unconscious. Depending on the type of surgery, different incisions are made in different places. Finally, they use dissolvable stitches to close the incisions.
You will receive post-operative instructions from your surgeon, including a list of prohibited activities (like sex). If you experience pain, you may use cold packs and painkillers. You won't feel any pain throughout the procedure because you'll be unconscious.
Make sure you comprehend the procedure and hazards before giving your consent for surgery. You must adhere to post-operative instructions, like any surgery, to avoid infection and harm.
What is the recovery period like after the vaginal rejuvenation procedure?
Your body and the type of procedure you have planned will affect how quickly you recover after vaginal rejuvenation surgery. The initial healing process takes roughly a week. For example, full recovery from vaginal rejuvenation surgery could take three months or longer. Even so, if you're also getting a labiaplasty or other operation at the same time, your recovery period will be lengthier.
Generally, you can anticipate leaving the surgeon's clinic after a few hours. Most vaginal treatments also allow you to go back to work in a week. However, after the operation, you may experience adverse effects like discomfort, edema, itching, and restricted range of motion for weeks or months.
What are the benefits of vaginal rejuvenation?
Tighten up the muscles in your vagina.

Support for incontinence (leaking urine).

Increase the moisture and lubrication.

Amplify the feelings and sensitivity of the vagina.

Make your pelvic and vaginal muscles stronger.

Improve the discomfort during sex.

Improve the look of your vulvar area (labia, clitoris, or vaginal opening).
Your Takeaway
There is a high demand for vaginal rejuvenation treatments; therefore, more research is undergoing, and new techniques are emerging. 
If you are looking for a thoroughly professional experience in vaginal rejuvenation, talk to our ObGyn board-certified physician Dr. Mustafa Aldam. He has over 20 years of expertise and certification in obstetrics and gynecology from JMC. He is regarded as one of the greatest and most sought-after obstetricians in Dubai due to his holistic approach to treating women's health and fertility issues. Additionally, he takes an active part in many national and international conferences on obstetrics, gynecology, and women's health.
Book an appointment today!