vaginal bleaching in Dubai
Maintaining your intimate areas is just as significant as maintaining your appearance. Many women are self-conscious about the color of their vagina and the skin around it. Different hair removal methods, aging, hormonal imbalances, or heredity may have caused your intimate regions to become darker and discolored.
Discoloration around and on the vagina frequently makes it impossible for women to have intimate relationships with their loved ones or force them to wear just lingerie or swimwear. Laser Vaginal Bleaching is a treatment that can now lessen these insecurities.
Our veteran gynecologist-obstetrician, Dr. Mustafa Aldam, has more than two decades of experience in this field and offers effective services in laser vaginal bleaching in Dubai.
What is Laser Vaginal Bleaching?
Laser Vaginal Bleaching/Lightening/Bikini Whitening is a cosmetic procedure. It uses laser light that targets melanin pigment to lessen vaginal discoloration. In other words, laser vaginal bleaching seeks to permanently eliminate darker-colored tissues in the perineum or vaginal area. This laser process gives long-lasting results and is safe and efficient.
Who is an ideal candidate for vaginal bleaching in Dubai?
You must determine your suitability for laser vaginal & anal bleaching in Dubai if you want the best outcomes. Although a consultation is advised, generally speaking, you are an excellent candidate if;
What is the procedure for laser vaginal bleaching in Dubai?
Given that procedure takes less than an hour, even those with busy schedules can receive laser vaginal bleaching in Dubai. The procedure takes between 15 and 45 minutes. Our skilled practitioner carefully carries out the treatment with utmost precision.
Following are the steps in the procedure:
What to expect during the recovery period?
A little downtime is involved with laser vaginal bleaching and a brief recovery period. After the procedure, you may experience continued soreness and tenderness for 5 to 7 days. Nevertheless, you could return to your house a few hours following the surgery.
What kind of aftercare is expected post vaginal bleaching?
Depending on your situation, our professionals will give you post-treatment advice. Check out the common rules that are listed below!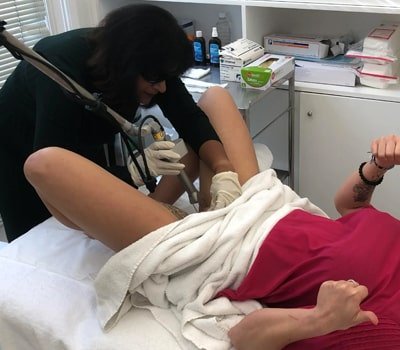 What results should you expect post vaginal bleaching?
Depending on the skin tone, the desired results, and the required number of sessions, the intimate lightening method yields different results for every person. Permanent results are provided by laser vaginal whitening, but you must wait about two weeks to see them.
How can you retain the results of vaginal bleaching treatment?
You should adhere to the following recommendations to help sustain the outcomes:
Refraining from strenuous exercise for at least ten days following therapy is recommended. Also, if you start feeling discomfort, you should contact our doctor immediately.
Why choose Dr. Mustafa for vaginal bleaching in Dubai?
You don't have to endure your pain in silence or feel ashamed of the dark skin around your genitalia. Instead, explore your treatment options with our gynecologist and cosmetic procedure specialist Dr. Mustafa Aldam. He is regarded as one of the greatest and most sought-after obstetricians in Dubai due to his holistic approach to treating women's health and fertility. Moreover, he frequently participates in various national and international conferences on obstetrics, gynecology, and women's health.
Besides, our team will be more than happy to address your concerns or inquiries concerning your skin condition. Get in touch with us to schedule your appointment.